Who we are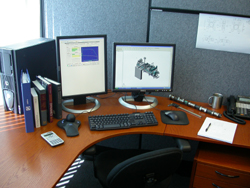 Applied Kinetics is a full-service, mechanical engineering outsourcing company. 
Design and analysis of products, mechanical components, structures, and mechanisms is our speciality.
Applied Kinetics is a full-service professional engineering and design company specializing in the design and analysis of automated machinery.
Applied Kinetics is an employee owned company that was established in 1998. Our reputation for thorough engineering and innovative machinery design is our biggest asset. We are essentially an engineering department for hire on a per project basis.
Our designers are equipped with the latest hardware and software, and all the necessary tools of the trade.  Applied Kinetics's philosophy of on-going training and peer-to-peer mentoring ensures that our employees have the skills you need.
company background
In 1998, Steven Park and Jack Pittens left senior engineering management positions in the custom machinery fields to start Applied Kinetics.
Their objective was to build an engineering-focused company that could concentrate on doing one thing: superior mechanical design engineering.  By offering to industry their extensive expertise, along with that of a growing engineering team, Jack and Steven have been able to build upon their strong foundations to create a successful business.
why choose us?
Applied Kinetics is authorised by Professional Engineers Ontario to provide professional engineering services. We have the credentials to design/review and certify machinery for compliance to applicable standards. All the work we do is the property of the client and is subject to our confidentiality policy. 
Our policy on Intellectual Property (IP) is clear:
YOU keep all rights to every project
YOU own the design
YOU are free to duplicate, resell, or redesign as you see fit
Applied Kinetics is a full service mechanical engineering firm with a well rounded team. Our areas of expertise include: Machine design, Thermal and Stress Analysis, Process Engineering/Development, Product Development, Custom Robotics, Risk Analysis...if its mechanical engineering, we have a professional that can help
Applied Kinetics has always prided itself on its attention to detail, not only in our engineering services, but also in our internal processes.  Over the years Applied Kinetics has continued to develop our internal quality processes, and this has contributed to our continued success, even in industries that have the highest quality control demands.  On March 10/ 2011 Applied Kinetics was officially recognised for its internal quality program by receiving both ISO 9001:2015 and Z299.2:1985 accreditation.
ISO 9001:2015 is a well known and respected program that ensures our internal processes stand up on an international level.  This accreditation was built on our existing processes and adds value without adding project costs.  Many companies misunderstand ISO 9001 and end up vastly increasing paperwork and costs without improving real 'quality.' A good QA program can actually help increase the value we add, and reduce the total cost of our services, as it evolves and develops.  Applied Kinetics is committed to not let Quality Assurance stand in the way of our exceptional quality, and to use our internal systems to continually improve how we do business.
Z299.2:1985 is a lesser known standard which goes beyond ISO 9001 with additional and more stringent guidelines.  It was specifically developed for those who work with the nuclear industry, where quality assurance is a way of life.  The program goes well beyond what is required for our non-nuclear clients and is not required for all nuclear projects.  This additional layer of quality control can add cost and lead time to a project.  The decision to work on a particular project to Z299.2 standards is made in consultation with our clients.