Applied Kinetics  prototype shop helps us move quickly.
For most projects Applied Kinetics is able to design using well known mechanisms or engineering principles for a high degree of confidence. But sometimes, a key design premise needs to be verified empirically. 
Applied Kinetics has a machine shop to enhance our engineering services.  We are able to assist in manufacturing prototypes, building test fixtures and performing simple experiments, testing and comparing samples for material and component selection. Most of these activities may be completed under our ISO 9001 quality certificate, which means traceable tools and documented processes!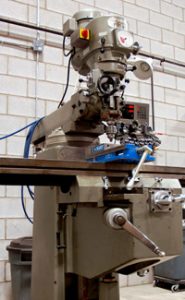 Some of our many capabilities include:
CNC machining capability for:
Producing multiple parts to be used in destructive testing
Producing complex geometries Comparing machining speeds and feeds on specific materials for surface finish comparison
Producing samples for photos and advertising
CNC Milling: Travel 20" [510mm] x 14" [355mm] x 18" [460mm] with 4th axis capabilities
CNC Turning: Through the chuck up to Ø2" [Ø51mm], maximum Ø8 1/4" [Ø210mm] OD, machining range of 16 1/2" [420mm]
Manual machining capability for:
Quick one-off parts Jig and fixture machining
Modification to purchased components
General inspection capabilities for:
Methodical visual inspection to locate defects and damage of existing parts
General dimensions for reverse engineering legacy parts
Mass measurements for ergonomic calculations and load analysis
Component level and machine level assembly/disassembly capabilities for:
Tear-down for reverse engineering of proven equipment
Initial start-up and testing of machines
Ease of assembly of proof-of-concepts
Assembly/disassembly procedures
Maintenance and safety manuals
In-house testing capabilities for:
First order compression and tensile testing
Friction determination
Fatigue/Cycle testing and analysis
Functional testing of proof-of-concept parts and assemblies
Testing of off-the-shelf purchased components
In-house 3D Printing:
FFM printing up to 30cm x 30cm x 30cm
With these capabilities Applied Kinetics can better serve our clients by providing a quick and effective means of getting from an idea to a prototype.  If our shop is unable to accommodate your requirements we can work with you to find local manufacturers with specialists to meet your needs.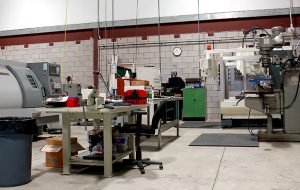 With our capabilities we can choose the key design components, manufacture them, and test their functionality; all without the cost and lead time usually associated with this process.  If design changes are necessary we can immediately make a change with no need to contact an outside manufacturer.  This can be a significant value added service especially for projects with tight timelines and high cost of failure. 
Applied Kinetics can create prototypes that may be used for demonstrations/testing internally or for outside sales efforts. Because this is a value added service to our clients we can be very competitive on your end costs.