Applied Kinetics designs equipment for both end users and equipment builders.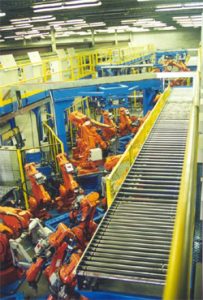 Whether you need a complete automated system designed, or just a retro-fit to an existing piece of machinery, Applied Kinetics is your best choice.
Singe 1998, Applied Kinetics has been designing machinery and automation systems to exceed our clients high standards.
When mechanical design is your only passion, and your craft has been honed to a sharp point, you can expect to be able to provide the best service.
Robotic systems, hard automation, stand-alone machines, or complete systems.  Applied Kinetics is the right choice.
Range of scope :
• Customer sales support
• Concept development
• PFMEA
• Detailed mechanical design
• Solid modeling
• Manufacturing drawings
• Assembly drawings
• Maintenance manuals
• Tender RFQ's for manufacturing and/or assembly
• Project management through manufacturing and assembly
• Assist in start-up and de-bug
• Qualify or certify equipment to meet CPk, safety standards,
and/or specific project requirements
Types of projects:
• New turn-key stand alone equipment
• New equipment integrated into an existing or new line
• Retro-fitting existing equipment
• Reverse engineering existing equipment