Engineering Certification of a media arm for institutions.  Applied Kinetics works with local media arm manufacturer to perfect their new balanced media arm
Balanced Media Arm - P.Eng. Certification
Applied Kinetics worked with Mediamounts of Cambridge Ontario to perfect their new balanced media arm.  This arm represents a new standard in ergo-arms for institutional use.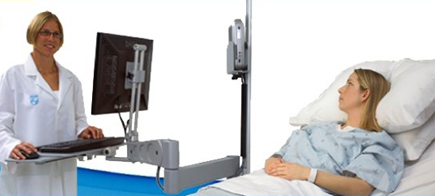 The Fluid arm.
Applied Kinetics was responsible for working with the arm designers to review and improve the final design for manufacture. Particular attention was paid to safety, ease of use, and design-for-manufacture.
The final product is robust, ergonomic, and easy to adjust.  And it is certified by Applied Kinetics!