Applied Kinetics is a full-service, mechanical engineering outsourcing company.  Design and analysis of products, mechanical components, structures, and mechanisms is our speciality.

Who We Are:
"At Applied Kinetics, we strive to increase our clients' profit potential with sound engineering services that always remain focused on our three guiding principles:
- the quality of engineering work is always
the top priority
- everything possible will be done to keep
projects on schedule
- projects will be kept on budget."
Jack Pittens
Principal
Applied Kinetics is a full-service professional engineering and design company specializing in the design and analysis of automated machinery.
Applied Kinetics is an employee owned company that was established in 1998. Our reputation for thorough engineering and innovative machinery design is our biggest asset. We are essentially an engineering department for hire on a per project basis.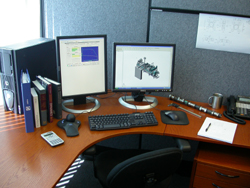 Our designers are equipped with the latest hardware and software, and all the necessary tools of the trade.  Applied Kinetics's philosophy of on-going training and peer-to-peer mentoring ensures that our employees have the skills you need.
Company Background: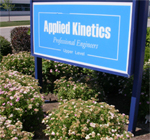 In 1998, Steven Park and Jack Pittens left senior engineering management positions in the custom machinery fields to start Applied Kinetics.  Their objective was to build an engineering-focused company that could concentrate on doing one thing: superior mechanical design engineering.  By offering to industry their extensive expertise, along with that of a growing engineering team, Jack and Steven have been able to build upon their strong foundations to create a successful business.
Professionalism:
Applied Kinetics is authorised by Professional Engineers Ontario to provide professional engineering services. We have the credentials to design/review and certify machinery for compliance to applicable standards. All the work we do is the property of the client and is subject to our confidentiality policy.