Sanitary, stainless steel, high-speed form-fill-seal machine. (Food Industry)


Summary:
Custom stainless steel "form, fill and seal" machine for production of a unique consumer beverage product.
Details:
This vertical form, fill, and seal machine combined pneumatic, cam, and servo actuation to fulfill the requirements of our clients very specific product specifications.  The design output rate of approximately 1 product per second was confirmed during full production runs.
The design represented the cutting edge of form, fill and seal technology, including automatic film feeding and tracking.  Additionally, the entire unit complied with very stringent 3A Dairy sanitation standards.
Project: Form, Fill & Seal
Industry: Food & Beverage
Output Rate: 1 Per Second
Sanitation: 3A Dairy
Electrical enclosures integrated into the machine frame allowed easy servicing while reducing floor space requirements.   Operator safety was ensured by including safety switches on all access doors.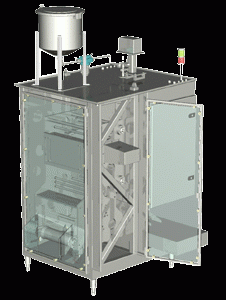 In addition to the form, fill and seal machine, Applied Kinetics designed a number of other machines involved with down-stream product packaging.